Posted by Kara Tripp on MaythGMT-0600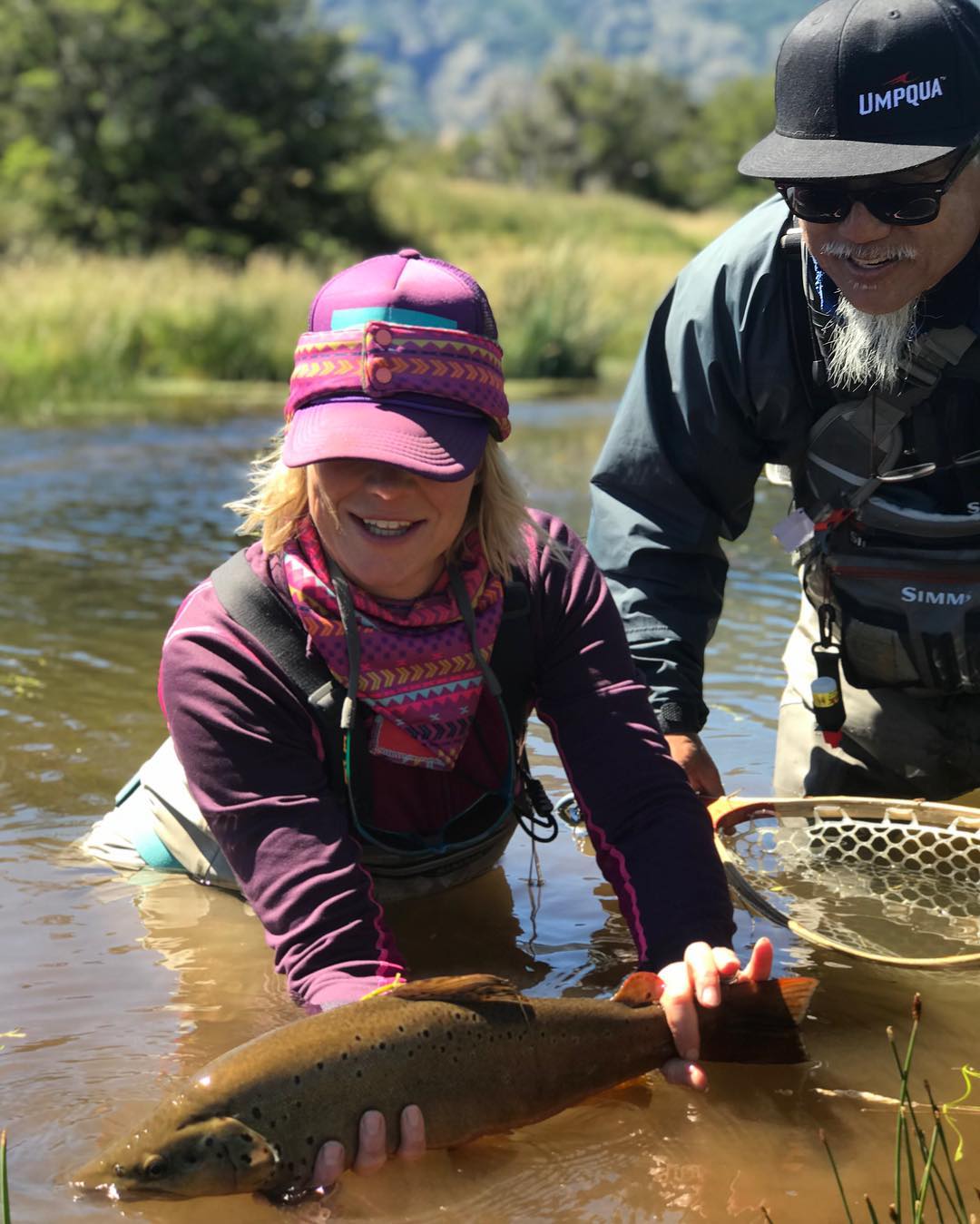 A long time ago, during winter break from college, I was introduced to one of the most comprehensive travel catalogs the fly fishing industry has ever seen. The Fly Shop catalog is a full-color print magazine boasting all the latest and greatest in fly fishing tackle, tying material, accessories, technical gear, Northern California guide service and private waters, and my personal favorite, international travel. Pages of beautiful fly fishing photography with details about the most exclusive fly fishing destinations tantalize anglers from across the globe - myself included.
During the long Montana winters I would anticipate the delivery of The Fly Shop catalog to help soothe my winter blues. It was also the first time I had heard of people traveling to South America to fish during the summer to escape the thrall of western winters. That's when the dream of splitting guiding time between summers in Montana and winters in Chile started to float around in my head.
The winter of 2018 was my inaugural season guiding at the very lodge I had pined over in the catalog, when I accepted the opportunity to become the first female to guide at El Saltamontes Lodge (The Grasshopper), in Chilean Patagonia. My fantasy of splitting time between two continents had come true, nearly 14 years after that first catalog! To say I wasn't a little anxious, nervous and excited about guiding rivers I had only read and dreamed about would be a flat out lie. But I did it! I rose to the occasion, tested my skills, grew both personally and professionally and developed a greater desire to continue to learn and practice mi Espanol.
This 2019 winter marked my second season at El Saltamontes Lodge. It was, hands down, one of my favorite life experiences. Not only did it keep me from freezing to death in the historically arctic winter temperatures here in Montana, it also allowed me to come away with an extended family. Our team was simply magical this year. The guests were among the finest collection of folks I've ever had the pleasure of guiding. The charm of living and working on a farm will never cease to amaze. It is home to chickens, herds of sheep, cattle, alpacas, horses and my favorite cattle dog turned guide dog, Boina. The angling was some of the most dynamic and quintessential trout fishing an angler can experience in his or her lifetime.
Within a stone's throw from the guest cabins you can catch trophy browns and rainbows out of the famous Sunday Lagoon. Fishing this and all of the lagoons tests your accuracy and often is where you'll have the best chance of catching a chubby, oversized brown. Watching these giants blitz out from under the reeds and lily pads to crush your Morrish Hopper left anglers tingling with excitement. In the late afternoon light we liked to stalk trout in a tiny and technical spring creek called Caterpillar, where my most effective pattern was a Goddard Caddis. Fishing Caterpillar and other spring creeks on the farm will force you to watch your back cast, think about strategy and approach, and make you a believer that big fish can certainly reside in water that looks better suited for bluegill and bass. The Nireguao River meanders through the heart of the farm and boasts some of the most productive and enjoyable walk and wade fishing you'll ever experience, with the opportunity to use all light tackle trout fishing techniques: dry fly, dry/ dropper, and streamers. Fishing big foam hoppers is of course everyone's favorite, as well as the namesake of the farm.
The summer weather in the south of Chile is more like the spring months in southwestern Montana. People often comment that they are surprised at how windy or cool it can be in that part of Chile, forgetting just how south they really are. Which means that I pack everything from chacos and tank tops to fleece pants, stocking hats and puffy jackets. There also isn't much of an ozone layer, which means lots of sunscreen is mandatory.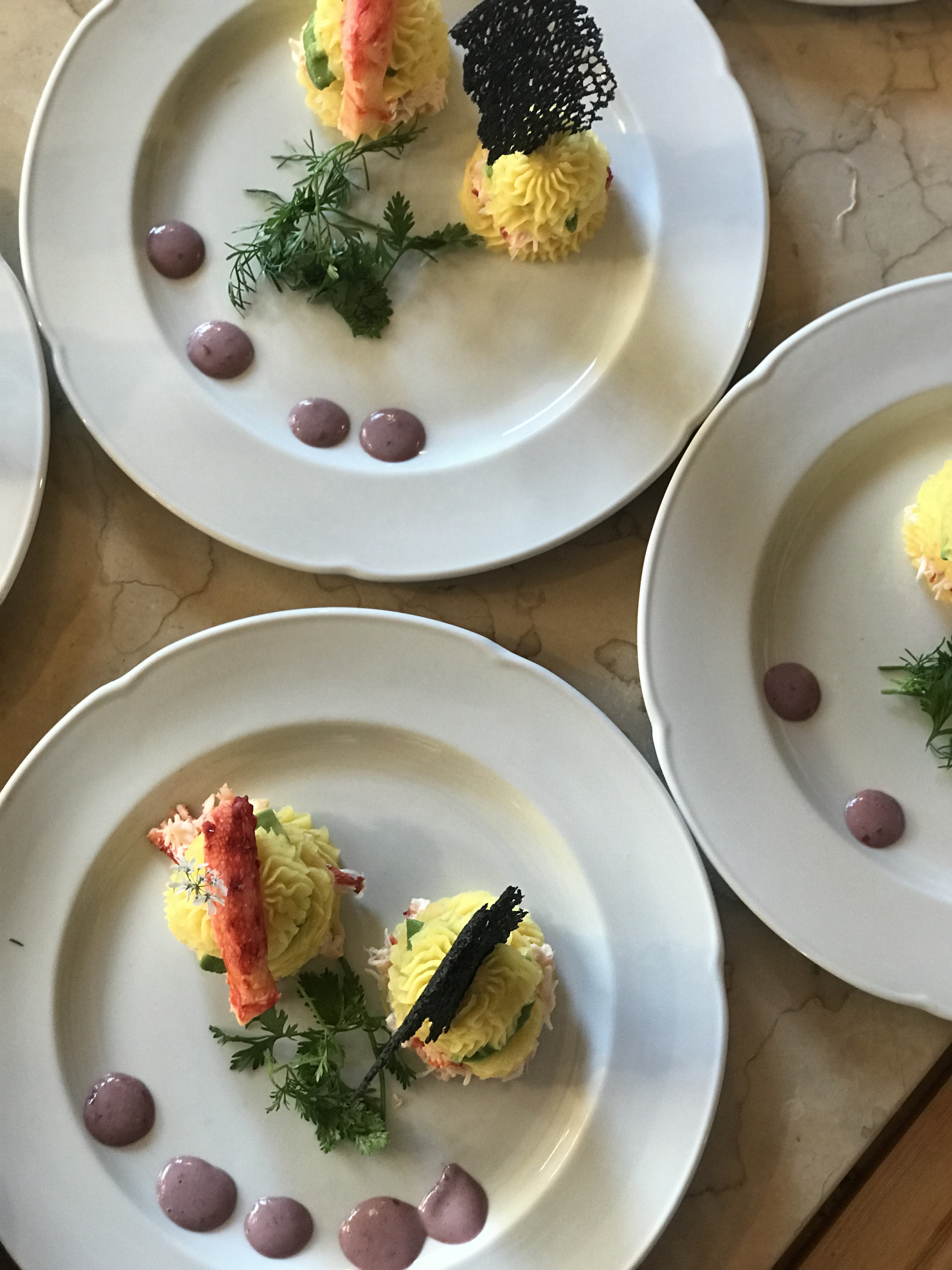 One of my favorite things about working at El Saltamontes is the food! If only I could figure out how to get Chef Paola to live and cook for me during my summer guide season here in Montana. Breakfast and dinner are served in the main lodge at a long, antique table that looks like something straight out of a scene from Game of Thrones. Hot shore lunches are made fresh in the morning and packed up to be enjoyed streamside. Our evening dinners are my favorite - four-course meals paired with local wines cast under the glow of flickering long-stemmed candles. Friday evenings are our last night with guests each week, and our final dinner is a traditional asado in the quincho (bbq hosted in an outdoor kitchen) where homemade to-die-for empanadas are washed down with your choice of libations: pisco sours, escudo beer, or robust red wines. The lamb is cooked over coals using a spit, roasted and seasoned to perfection and served with Chilean-style side salads of fresh tomatoes and potatoes.
I feel fortunate and blessed to be working and living my fly fishing life. We only get one chance to live our dreams, to breathe life into them, and to let them take us on adventures we've only fantasized about. If you have ever wanted to experience the landscape of Patagonia, drink mate (ma-tay) with a gaucho, watch feisty brown trout take dragonflies out of mid-flight, feel the gale force winds, or smell the asado and taste great wine, make time for yourself and get it on the books! If you need more information or encouragement, send me an email: kara@damselflfyfishing.com or shoot Mike Mercer an email at The Fly Shop: mercer@theflyshop.com