Posted by Kara Tripp and Abbie Schuster on MaythGMT-0600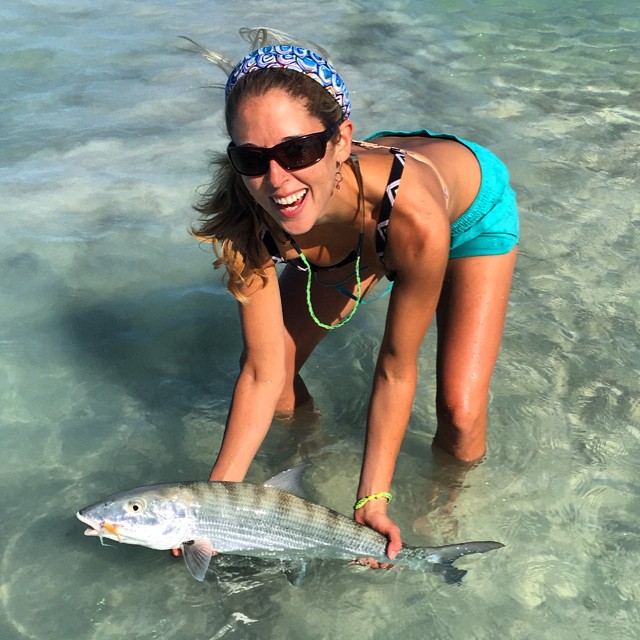 Damsel Fly Fishing is all about building a community of female anglers from all rivers of life. We like to celebrate these women by showcasing a female angler that's out there living it! This May we are proud to feature female angler Abbie Schuster. Abbie is a firecracker, pro guide, saltwater diva, with an energy and passion for life AND fishing that is infectious. Take the time to get to know Abbie in this fun Q&A. If you have a female angler in your life that's making ripples, feel free to nominate her for the next featured female by following Damsel_Fly_Fishing_ and tagging #DamselsInFishing.
Name:
Abbie Schuster
Age:
26
Residence:
Martha's Vineyard, MA
Home Waters:
Long Island Sound, Martha' Vineyard, New England Creeks
Bio:
I don't remember learning to fly fish. It is just something I have always done. I grew up in Connecticut minutes away from the Farmington River. Some of my favorite memories are waking up well before the sun, loading up the Kayaks and going Striper fishing with my dad off Martha's Vineyard or in Long Island Sound. Watching sunrises with my father, Stripers in hand, I realized that my dad was giving me a life-long gift. My passion led me to many different rivers and streams throughout the East Coast. I attended college at the University of Montana, which only fueled my fly fishing addiction. In 2011 I attended Sweetwater's Guide School and have not looked back on my career choice since. After guiding in Montana, I realized I need salt water back in my life, so I picked up and moved to Seattle to start a Women's Fly Fishing Program. It was such an amazing experience to watch fly fishing turn into a passion for so many women. I recently moved back to my home waters on the east coast and will be guiding in Martha's Vineyard and Maine. My goal is to empower as many women and anglers as possible to get out on the water and learn the art and joy of fly fishing.
Best Day Fishing:
On Andros Island with my Dad.
What do you love most about fly fishing:
The serenity and peace it brings me.
Favorite Type of Fishing:
Striped Bass! and...any water that holds Brown Trout...and Bonefishing
"Go-To" Fly Pattern (to tie or fish):
Gotcha because it means I'm going somewhere warm!
Must have beauty product for a day of fishing?
Burt's Bees Sunscreen Lip Balm
Favorite piece of equipment (that one piece you just don't leave home without):
My Costa Sunglasses
Favorite Non-Profit:
Casting for Recovery
Dream fish and location:
Giant Brown Trout in NZ or GT on Christmas Island
Best advice received:
Follow your passion, work hard, be nice to others and you will succeed in life.
Pro Tip:
Find the art of fly fishing so then it will become a life long passion.
Words of Encouragement:
Everyone is a beginner at some point. Fly fishing is a life long sport. Be yourself and be confident and be present with the water.
Love what Abbie is all about? Her Instagram handle is abbie.on.the.fly give her a follow!