Posted by Kara Tripp on AugthGMT-0600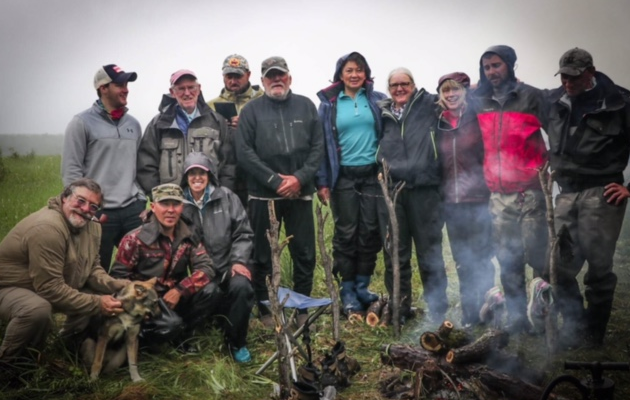 Above: Group photo of week 1, wilderness float. We fished a tributary of the Tigil river.

These fish see 15 minutes of flies every four years. If you are looking for the best trout fishing experience on the face of the planet, start planning your trip to Kamchatka. It's the only place on earth that has all 6 species of salmon. The landscape and it's inhabitants are native. Everything that calls Kamchatka home belongs there. When people ask me how good is good, I quote my favorite Russian scientists and reply "It's as good as the day God made it."

The first trip to Kamchatka in 2013 was my first hosted trip EVER. I was told it was silly to attempt a trip to Russia for my first hosted gig. I ignored the wisdom and went for it anyways. That first trip, everything went perfectly wrong. We had delays due to weather on both the front and back end of the trip. Due to fog and weather in between various mountain ranges we were delayed in meeting our once-a-week flight home. Even with all the uncertainty that comes with traveling to and from Kamchatka, the stories, memories, and pictures you walk away with makes it all worth it.

Since 2013, I have found my way back every other year and every time I play the mental game with myself. "Should I go? Or should I just take my sales commission? My guests will understand if I don't come." I start crunching the numbers- thinking about what I could be billing if I stayed and guided the two weeks in the middle of fishing season here in Montana.

The battle between what you know you should be doing verse what you know will enrich your soul can be a fine line to walk. It's not always about the money. I know that traveling to Kamchatka can be difficult. I know that there is a 99.9% chance that during my two weeks of fishing, there is going to be a delay of some sort that cuts into our fishing time. But when the fishing is so fucking good and you still catch more fish in three days of fishing then you do in an entire year of weekend warrior trips, who gives a shit! The idea of missed flights, not being in control, missed out money, and worrying about the weather goes right out the door. Nothing good comes easy. There is always an element of risk when big rewards are to be gained. That's what fishing in Kamchatka reminds me of every time I go! Which is why my guests hear me say all the time that "This is the happiest place on earth, some people say it's Disneyland, I say Kamchatka is my Disneyland!"
This years trip we dealt with a 24 hr delay that kept us in Anchorage. When we arrived to Petropavlovsk, a cyclone had moved in. Our Russian outfitter for the Wilderness Float, Kamchatka Trophy Hunts, met us with a bus locked and loaded ready to drive 8 hours north to the heli pad in hopes to outrun the rapidly moving storm. The weather caused us to miss yet another day of fishing, leaving us only with 3 full days of fishing. (When traveling to Kamchatka make sure you purchase travel insurance, it gives you peace of mind and takes the sting of feeling like you made a bad investment when things go perfectly wrong).

Once in camp, we experience the best "catching" planet earth has to offer. Every morning we drank cowboy coffee, with our eggs made to order and a hot bowl of cereal. The guides break down camp, tents, and load boats while we finish breakfast. By 9 am fishing you are fishing cool, clean water and catching fish on what we nicknamed the " do nothing." As long as your fly is in the water, you're in the game. Lunch is served along the banks of a river with No Name, where fish tales are told in abundance. By evening, you're so happily exhausted from the beautiful reality of your day you just melt into a camp chair in front of the fire. A bottle of vodka gets passed around while everyone enjoys the far eastern sunset. The strong finish to the day is crawling into your tent, with a belly full of warm homemade borscht, five drops of vodka, and feeling the comfort of the tundra beneath you. Drifting off to sleep in a world so far east that it's almost west, makes you feel like your the luckiest person alive!

Week 2, Zhupanova Float Trip

The second part of the adventure takes place on the famous Zhupanova river. I like selecting a fishing experience that provides rustic Russian cabins, gravity fed flushing toilets, and hot showers. After a week of sleeping in tents, it's nice knowing that the week to follow will be spent in a cabin with a wood stove!

This year, fishing conditions were not ideal. Due to continued run off and rains from a late summer thunderstorm the beautiful Zhupanova river was running dirty. It didn't matter though.

The Zhupanova is known for providing anglers with the opportunity to land the largest rainbow trout of their life. This is were the week of "catching" ends and the week turns into "fishing". You are casting your arm off throwing an 8 wt rod with a type 5 sinking tip and large streamers.

The fishing proved to be more work then when I was there in 2015, but even with the unsightly river conditions my group put up some beautiful fish every day!

Everything on the Zhupanova is bigger. The river, the fish, even the brown bears. A sea run fish called a Super Kundzha is a prized fish on this river and the ladies in my group landed the biggest ones of the trip. Nikki with a 34" and Mary with a solid 30".




As this trip of a lifetime drew to the end, I watched (with a hangover) as my dear friend Mary's line pulled tight. From the look on Guide Dima's face I knew Mary had the fish of the week on her line. With not even an hour to spare, Mary landed the only 30" rainbow of the trip. Many 29" fish were had by all throughout the week, but only one met the mark we were all looking for.



For more information on the Summer 2019 trip email Kara for more details.