Posted by Kara Tripp on MaythGMT-0600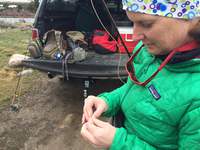 It's Spring time, which means fly fishing season is here! The sunnier days means lots of bugs and feeding fish. Now is the perfect time to put Try Fly Fishing at the top of your To Do list! Can't remember how to put your rod together? Or are you just sick of watching the boys have all the fun on the water and are ready to learn how to fly fish yourself? Maybe you just want to capitalize on the zen-like feeling you get by being near water. Whatever your reason, we are here to help you embrace the fact that fly fishing is FUN and to cross it off your To Do List!
To make the transition from wanting to learn, to casting like a pro easier, we have compiled a list of fly fishing opportunities that Damsel Fly Fishing is proud to represent. We are here to help you get out on a stream and start casting your cares away!
Montana Women's Fly Fishing School
The Montana Women's Fly Fishing School in located in Big Sky and Bozeman, Montana offers up 3 days of the best access to waters that will hone your fishing skills and provide spectacular scenery. Each day starts off with an educational classroom activity, reading the water, rigging, knots, basic entomology, fundamental fly casting with the afternoon left for practical, on the water application. Giving you the opportunity to have success under the watchful eye of your nearby instructor. If you are looking for a course to give you more answers, and help you build your confidence sign up today!
When: June 15, 16, 17 & June 19, 20, 21
July 7,8,9 & July 14,15,16
August 4,5,6 & August 11,12,13
September 1,2,3 & September 15,16,17
Where: Gallatin River Guides, Big Sky, Montana
Cost: $995 per person
For more information on any of the schools contact Kara Tripp at kara@damselflyfishing.com
Women's 3 Day Fly Fishing School
The Fly Shop in Redding Ca., puts on a deluxe 3 Day Women's School every year. Enjoy 3 nights of luxury accommodations, great food, professional instruction and terrific trout fishing. This 3 Day course is heavily focused on efficient casting techniques, rigging and knots, elementary and practical entomology, reading the water and proper fish handling. If your looking for an all inclusive learning experience at the most epic outdoor classroom on the planet, look no further!
When: August 25-28, 2016
Where :Antelope Creek Ranch, Northern California
Cost:
1,195 - per person (double occupancy)
$1,695 - per person (single occupancy)
For more information on any of the schools contact Kara Tripp at kara@damselflyfishing.com
Women's Wild West Fly Fishing Retreat
Nothing helps you get in the spirit of fly fishing like hanging out in the western town of Cody Wyoming. Monster Lake Ranch is a private ranch that is just minutes from downtown Cody. The entire Monster Lake Ranch is over 30,000 acres and has two lakes that are so full of trout that even Buffalo Bill would have a hard time wrangling them all in! The accommodations at Monster Lake Ranch are the perfect example of western hospitality. From onsite lodging and a western boardwalk themed restaurant to the beautifully decorated parlor room saloon, you won't find a more western experience anywhere.
All these reasons and more is why we have decided to partner up with the lovely folks at Monster Lake Ranch and host our first Women's Wild West Fly Fishing Retreat. The 3 night stay includes all instruction: fly casting, basic knots and rigging, equipment, entomology and reading the water. This prepares you for a ½ day of guided fishing on Monster Lake, where you're sure to be hooked for life after wrangling a monster trout.
Where: Monster Lake Ranch, Cody Wyoming
When: September 29 - October 2
Cost: TBD.
For more information on any of the schools contact Kara Tripp at kara@damselflyfishing.com
Tightlines,
Kara and Lynae
Damsel Fly Fishing