Posted by Kara Tripp on NovthGMT-0600
All Dolled Up and Ready to Adventure.
Stellar skin care products to help you look your best while enjoying the outdoor lifestyle.
After years of trying to find the right kind of skincare products for my outdoor lifestyle, I have finally found products that protect my skin from the elements while providing me with the frills of feeling all dolled up and ready to meet my clients.
Why wouldn't you want to look your best before meeting your clients? Just because you're a fly fishing guide, ski instructor, white water river guide, yogi, outdoor loving mother, or huntress doesn't mean you should forfeit looking like you just rolled into the board room.
Taking care of yourself can get tricky when you're working in the rural areas of Montana, Patagonia or the bush in Alaska and honestly who wants to spend hours doing hair and make-up when you're up from dawn to dusk. Those 12 hour days on the water, ski hill, open range, or woods can take the self-love right out of a girl and will make you want to squeeze any life you can get out of every min of beauty rest.
Regardless of your lifestyle, I think you will appreciate these time saving, multi functional, and skin loving products! I have bought many of these products for my female friends to use in their day to day adventures, making them the perfect gift to give your fellow #ladyboss friends this holiday season.
Enjoy and Happy Adventuring - XO Kara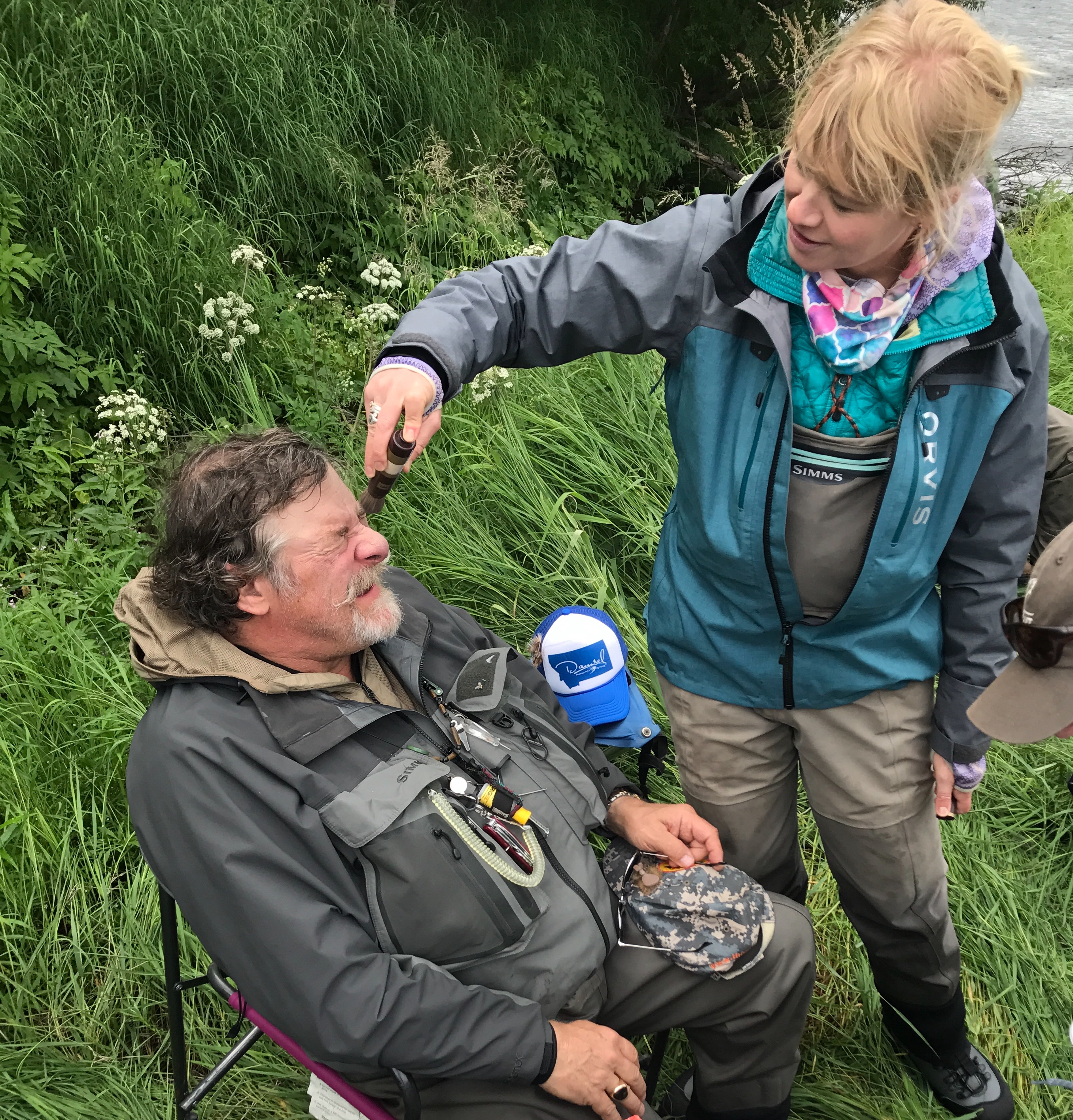 Above: Kara giving skin care tips to friend David on the banks of a remote river in Kamchatka, Russia. David was impressed with the easy brush-on application and enjoyed not having sunscreen goop on his hands.
---
1.It's Cosmetics Your Skin but Better CC Cream with SPF 50+
This product is truly amazing. The formula gives you full coverage while combating the suns harmful rays. In addition, it hydrates and fights signs of aging with it's anti-aging peptides, hydrolyzed collagen, vitamins and antioxidants! When you're short on time it's nice to have a product that multi-tasks as 7 products all in one!
---
2.Coola – Mineral Liplux SPF 30 Summer Crush
It's important to keep our lush lips protected from the sun and wind and who wouldn't want a little color while protecting your pout from the harmful effects of sun and wind. This product is my #ladyboss gift to all my fellow female guides. It nourishes and conditions your lips while giving your lips a splash of color.
---
3.Coola Organic Makeup Setting Spray SPF 30
You should have products that work as hard as you do at being a badass outdoor women. This product alone can keep your makeup on longer while adding additional SPF protection. Bonus! The hyaluronic acid helps soften, tone and rehydrate your skin. It's a win win for all!
---
4.Colorescience Brush-On Sunscreen, Sunforgettable Mineral Powder for Sensitive Skin, Broad Spectrum SPF 50 UVA/UVB Protection
I have this product stashed in my waders, purse and boat bag. Being in the sun all day and having greasy hands on the oars or touching your flies and fly line with sunscreen on your hands isn't ideal. This product gives you coverage that you can re-apply with-out the feeling of being a hot sticky river rat at the end of the day.
---
5.Balleck Dry Shower: Dry Shampoo Powder + Dry Body Wash + Scent Free Deodorant PH Balanced 3 in 1 Water-less Shower – Mossy OakDry Shower 4.5 oz
The quickest way to catch more Zzzz's during a busy guide season is to cut out the time it takes to wash and dry your hair, which makes Balleck Dry Shower one of our favorite wilderness travel must haves. It's made with organic ingredients and a biodegradable container. Sprinkle, brush, repeat!
---